Thursday, December 8, 2022 / by Dave Magua
It's likely a surprise to none that most buyers and renters begin their property search online. This consumer behavior highlights the importance of imagery within property listings. The images need to capture interest and 'sell the space' immediately. Why? Because it can be mere seconds before house-hunters click off the webpage to scroll through the long list of other properties on the market. Making an instant impression is critical.
One of the sure-fire ways to capture that attention is through the use of virtual staging. Virtual staging is a powerful real estate marketing tool where furniture and décor is digitally added to property images. Virtually staging a property can help it sell faster and is a simple and convenient process.
1. Showcase A Property's Potential And Inspire Visualization
An empty space or dated styling can reduce the marketability of a property. Virtual staging can showcase the potential of a space to help potential owners or renters envision their life within the home. Not all people can visualize the potential of an empty space - styling a home in an attractive way can add warmth and encourage people to consider themselves living there. Creating an inviting space that appeals to buyers or renters can create an instant and strong connection to the space.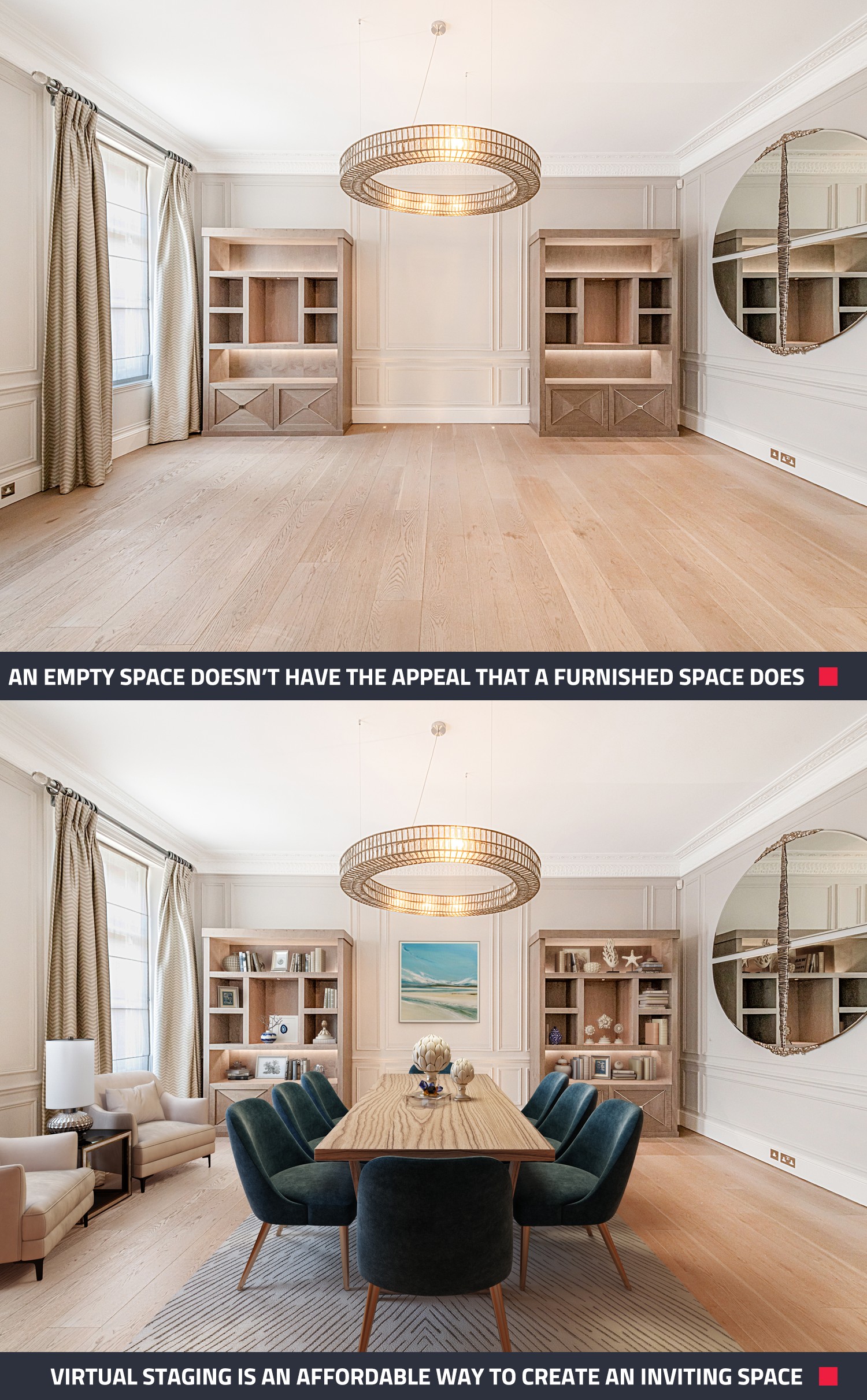 Furnishing a space showcases the potential of a property and helps potential buyers and renters envision their life within the home.
2. Generate More Interest, Sell Faster And Boost Selling Price
Presenting a furnished home can attract more interest online. A suitably styled home makes it easier for buyers and renters to connect with the space. Creating that connection can build a strong desire to live there and can secure more offers. A recent survey from the National Association of Realtors (NAR) found houses that are staged sell 75% faster than vacant homes and that 84% of staged properties sell for the asking price or higher.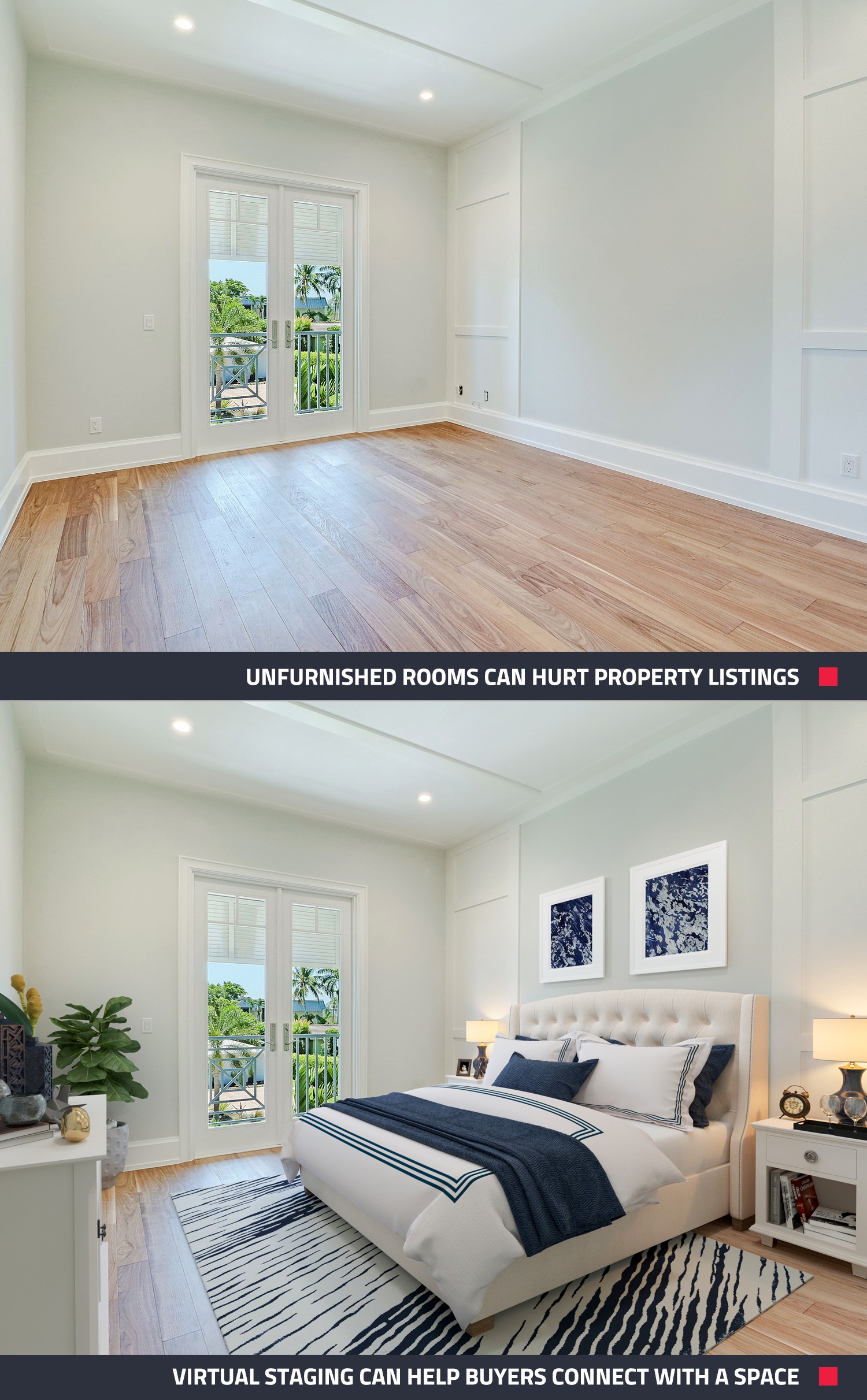 Use virtual staging to make an instant impression and help your property listing stand out to potential buyers.
3. A Cost-Effective Way To Furnish A Property
Virtual staging can cost as little as US$24 per image. Hiring a home staging company to physically style a property with furniture and décor can be an expensive task and it is often the price tag that makes this service an unviable option. Depending on the location, the size, and the number of areas that require furnishing, a full-service live staging can be anywhere between $2,000 and $10,000.
4. Easily Customize The Style And Diversify The Space
Virtual staging is not only a cost-effective alternative but has the added bonus of offering customizable styling options. Traditional staging can have a limited range of furniture stylings on offer and can only display one design aesthetic. Virtual staging has a wide range of design styles to pick from and if a particular style doesn't work with a space, it can be changed quickly and easily. Explore our range of virtual staging furniture styles and download our Look Book.
Another benefit of virtual staging is that it is easy to repurpose a room to show the versatility of a space. Creating multiple stagings of the same space can attract a range of buyers and renters with differing lifestyles. Broadening a home's appeal and displaying a room as an office and then a bedroom, for example, provides house-hunters with the opportunity to experiment with a room's potential uses and envision their life there.
5. Save Time And Effort
48 hours or several weeks? How much time do you have to invest? Virtual staging can deliver beautifully furnished images within 48 hours or sooner. Live staging is a time-consuming process, where there is a lot to consider, and customarily takes several weeks. Skip the cleaning, the movers, and the interior stylists, and save time by using virtual staging. We can easily virtually stage photos taken on a smartphone. Check out our blog and see how we virtually staged a house using an iPhone 14 Pro!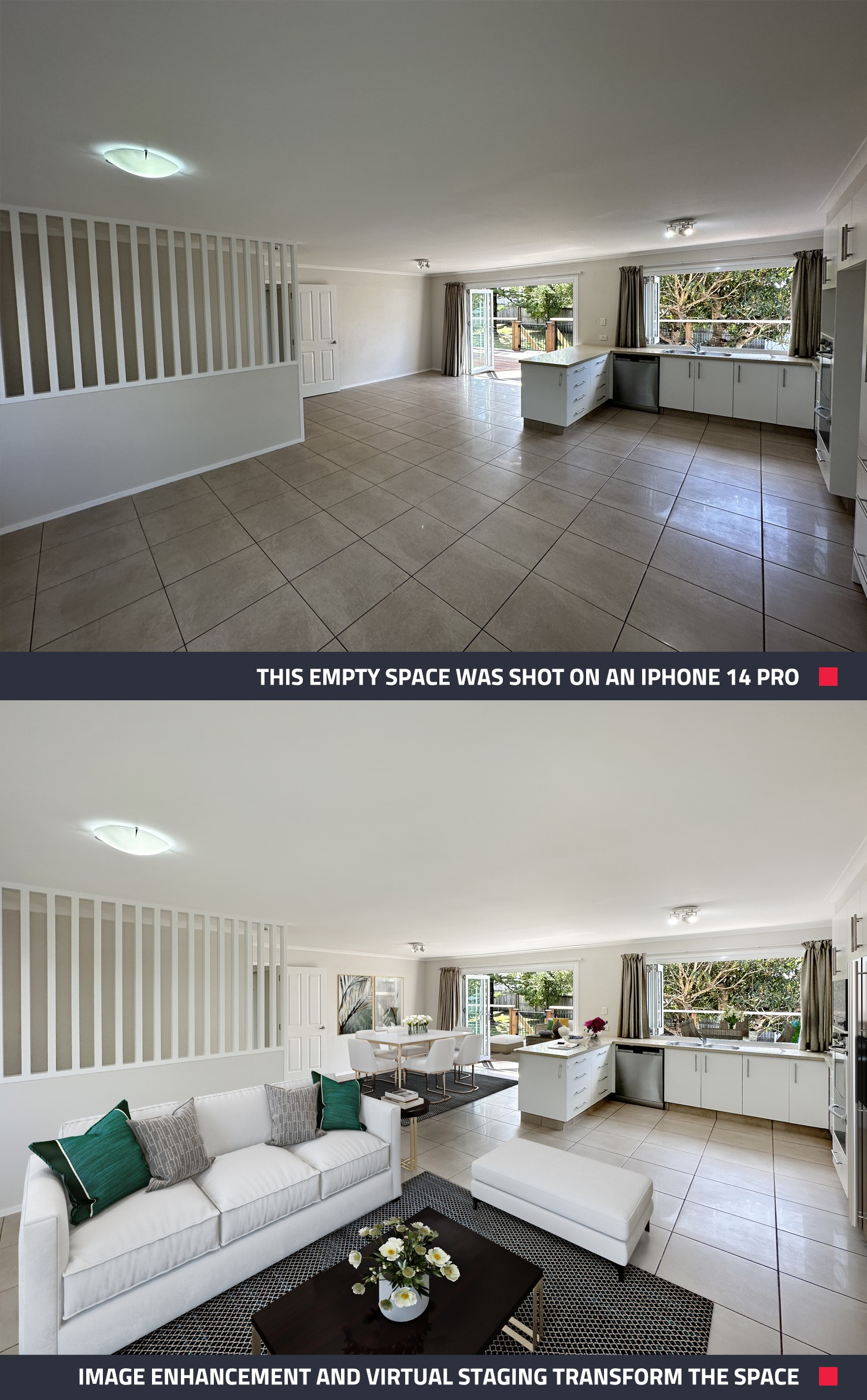 Easily shoot a property listing with your iPhone and we can virtually stage it fast and at a low price.